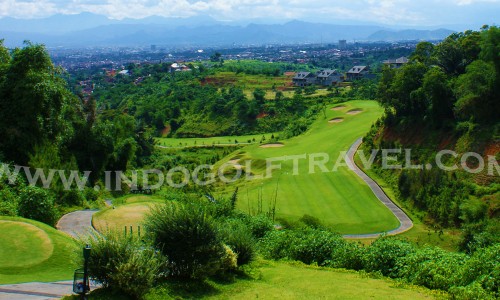 Bandung-Yogyakarta | 8D/7N – 3 Golf
Saturday – Day 1;
You will arrive in Jakarta on a Arthur Brown Jersey Saturday. After meet and greet you will embark on a two and a half hour car trip to Bandung where you will check in at the Prama Grand Preanger, remnant of the Art Deco era of the past century and a hotel that has kept high its formidable and longstanding reputation as one of Bandung's very best hotels
Sunday – Day 2;
After breakfast you will be leaving for a day trip to Tangkuban Perahu, one of Java's most active volcanoes where you get up-close with Mother Nature in its purest form. Standing at the rim of this impressive volcano one can look down some 200 meters into the caldera that spews up sulfuric plumes.
We continue your day trip with a visit to a former Dutch tea factory where nothing seems to have changed since the days when the Dutch produced export quality tea that was send to all corners of the world, making Indonesia one of the world's most important exporters of this highly sought-after commodity. Here you will follow the production Arthur Brown Authentic Jersey process from arrival of the freshly plucked tea leaves all the way to the expedition department where thousands of pallets are waiting to be processed fro shipping.
Monday – Day Arthur Brown Womens Jersey 3;
Today you will play your first round of golf at Bandung Mountain View, one of the most impressive mountainous courses in the land and a layout that offers you vistas on the city of Bandung from most of its tee boxes, fairways and greens. Designed by Aussie golfer and 5-time British Open Champion Peter Thomson, this course will stay in your memory long after you have made your final putt.
After your round of golf, we'll take you to some of the many so called 'factory outlets' that give Bandung its reputation as Textile & Fashion Capital of Indonesia. Here, prices for export quality textiles will pleasantly surprise you.
Tuesday – Day 4;
After breakfast, we'll take you for golf at Bandung Giri Gahana in the eastern part of the city. Located Arthur Brown Youth Jersey at 900 meters above sea level, this course is surrounded by mountains in every direction. The stately on-course hotel doubles as a clubhouse and is home to a restaurant that offers Asian and Western food.
Wednesday – Day 5;
At 7am you'll board the train that will take you on a journey from Bandung to Yogyakarta through impressive mountains and along plains where rice paddies are a predominant feature. At around 4pm you'll arrive at Yogyakarta's iconic railway station where you will be picked up by our driver who will take you to the cozy boutique hotel of Rumah Mertua ("the house of my mother in law" in Indonesian). Its cozy and homey interior will take you back to colonial days and will give you an immediate sense of belonging.
Thursday – Day 6;
After breakfast we'll take you to the course of the Merapi Golf Club that sits right at the foot of Mount Merapi, one of Java' most active volcanoes who last exploded in 2010 covering the 10 holes closest to the mountain under a blanket of hot ashes and killing nearly 300 people that lived on the mountain's flanks in the process. Designed by 5-time British Open Champion Peter Thomson, the Aussie seemed to have played no role in how the putts role. It is said that mysterious powers play a role in putting towards or away from the mountain. So, take good notice of the advice Arthur Brown Kids Jersey given by your caddie, as she knows best how these mysterious powers work.
Friday – Day 7;
Today you will be visiting the famous Borobudur temple complex that was built in the 8th and 9th century AD during the reign of the Syailendra Dynasty. Considered one of the most sacred places in Java, this monument was totally restored with help of UNESCO in the mid 70's.
This visit is followed by a tour of Kota Gede, the place where Yogyakarta's silver industry has a claim for fame. Later in the afternoon you will be visiting the Keraton – or the Sultan's Palace – where you are introduced to the rich history of the Sultanate of Ngayogyakarta Hadiningrat.
Saturday – Day 8;
Today you can chill at the pool of Rumah Mertua or go for some last-minute shopping. In the afternoon you will be taken to the airport for your flight to Jakarta and your connecting flight back home, or for your flight to your next destination for the 'next' Indogolf Travel package that you may have booked.
Included in this package are; 7 nights hotel, 3 green fees, 2 excursion days, a fabulous train trip from Bandung to Yogyakarta, all internal flights where applicable, as well as a chauffeur-driven car plus English speaking guide for a period of 12 hours per day.